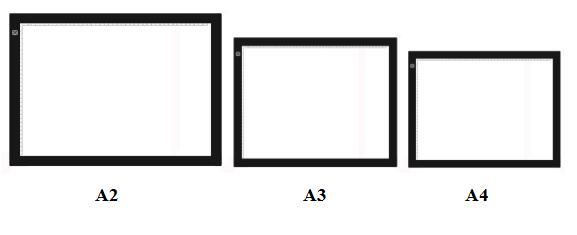 Description
A4 A3 A2 12V LED Tracing Copy Board Tracer Pad Light Box Tattoo Sketch Art Photo Thin

INSTRUCTION
Specification:
Model:

A2

A3

A4

Material:

Acrylic(Organic glass)

Outside Dimension:

60*40cm

47*37cm

36*26.6cm

Active Area:

55*35cm

43*33 cm

32*22cm

Thickness:

0.77cm

0.72cm

0.72cm

Power Source:

12V,Supplied with 100/240V-50HZ Power Adaptor

Wattage:

10W

9.6W

7.2W

Light Source:

Flicker-Free Super Bright Eco-friendly LED

Adjustable Illumination:

Intelligent touch control

Net Weight:

1.5kg

1.2kg

0.65kg

Gross Weight:

2.8kg

1.9kg

1.15kg
Remarks:Others size B5/A4/A3/A2/A1/A0 etc, our company may also make to order according to the visitor request!
Operation:


Usage:
Professional Copy in Animation, Cartoon, Tattoo Tracing, Craft Projects, Fabric Design, Photograph, Film,
Slider Transferring; Professional Tracing in Indoor, Architecture, Design and Drawing, And even As X-ray viewer in Hospital.
Features:
1.Power supply by DC12V cable.
2.Super Bright&Eco-friendly LED ensure extreme low calorific value and life span up to 50000 hours.
3.Flicker-Free&No radiation,good for your eyes especially long-hour working.
4.Thin&Portable design.Ultra-thin and light weights which makes the it portable.
5.Touch sensor Switch Design,dimmable,turn on/off and brightness control easily just by slight touch.
Precautions:
1.Handle with Care. Do not use sharp metal objects. Protect working surface from scratches.
2.Only use on a safe stable working surface.
3.Warranty will be voided if tampered with.
4.After use always store in a safe dry place.